"Quality Carpet at Junkyard Prices!"
Make Your Selection from Top Name Brand Carpet Mills In a Relaxed Atmosphere at Wholesale Prices from Evans Carpet Junkyard, a Leader in the Carpet and Flooring Industry in Columbus Ohio.Join the Many Satisfied Customers who visit the Bigger, 30,000 Sq. Ft. Warehouse for
"Bigger Savings and Better Service!"
M-F 10 AM to 5 PM
Sat. Closed
Closed All Holidays
CALL if in Question
---
665 N Hague Ave.
Columbus, OH 43204
Just West of Downtown Off I-70
A little insight on the History of Evans Carpet Junkyard
Larry Evans started the business in 1956. Larry's wife, Diana and several of the nine children have continued running the business.The business was built on Honesty and earning the Trust of our customers by Listening to fulfilling our customer's needs,which has kept our customers coming back again and again.
If You Want:
Designer Air-Conditioned Show Rooms…
This is Not for You!
But, If You Want:
Honest, No Frills, Get What You Want,
"Quality Carpet at Junkyard Prices"
Then, This IS the Place for You!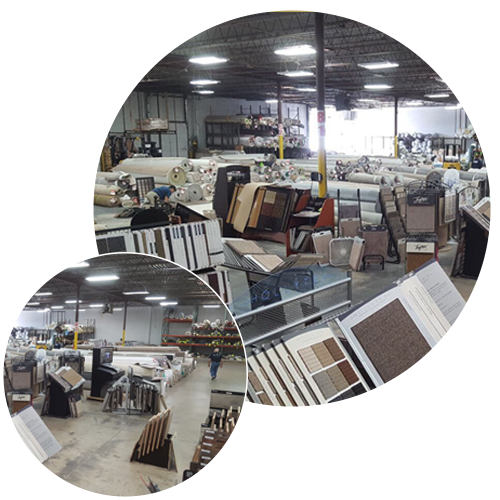 Products
Most of Our products are sold less expensively for many reasons!
Because we Buy:
Full Rolls of 1st Quality Carpet
Short Roll Remnants
Discontinued Patterns
Mill Seconds
Commercial Carpet
Close-outs
Buy-outs
Overstock
We purchase and utilize the best quality, sizes and useable pieces.
We buy seconds with minor flaws(example: the color of the roll may not match the color sample shown in a sample book).
Plus, We have over 60 years of purchasing longevity and relationships with the Top Name Brand Carpet Mills in the U.S.!
Services
Evans Carpet Binding Department provides custom sized
area rugs, hall and stair runners.
We provide carpet for:
Convention Exhibitors, Fairs and Trade Shows.
Our open warehouse concept allows customers to see
the carpet colors, texture and design on a full-size carpet,
making it easier to make the right choice!
This has been a family-owned and operated business since 1956,
So, you are assured of our detailed personal service!
Service, Selection and Savings have brought Our long-term
Customers and Friends back repeatedly!
"The best for service, quality and reasonable prices!! Highly recommend! (g)"

| Erin White
"The Carpet Junkyard offered a much more-straight forward approach to carpet purchase and installation than the big box stores. The prices were reasonable, and the installation was quality.Thanks Carpet Junkyard! (g)"

| David Rowe
"The customer service is so great here! The lady was so genuinely helpful. When we showed her what we wanted, she helped us find the best version of that for the best price. She took her time, wasn't in a hurry, didn't act put out and really KNEW her inventory. SO different than my experiences at Home Depot or Rite Rug (g)"

| Laura K
"This is the place to go to get carpet, don't let the name fool you, all the carpet is new!  (g)"

| Mark Green
Evans carpet is a business that we have recommended to our friends and family constantly!I know we have used Evans carpet twice in our old house, and we are carpeting for the 3rd time in our new house (5 times total, thanks to our past leaky basements).The prices are literally 1/3rd the prices we've been quoted from the chain companies that exist in Columbus. Always enjoy doing business with this great company! (g)

| Ben Smith
After two purchases with Evans Carpet, let me tell you these guys are great and cannot recommend them enough! Excellent value, great quality carpet, great service and delivery. Jackie, my sales rep, offered solid advice that lead to a rem-net carpet purchase.I am ecstatic about it! GOOD JOB! (g)

| Lisa S
"You walk into a retail store, whatever it is, and if there's a sense of entertainment and excitement , you wanna be there. (g)"

| Chad Harris
"I just purchased a very large area rug plus pad from these people. They were all helpful, friendly and efficient. My first encounter was with Justin who gave valuable information to help me make a decision. From the woman who greeted me to Justin who wrote the order to the master binder, service was top notch. I will return to them in the future and highly recommend their work. (g)"

| Marilyn R
"We needed to get carpet for our upstairs. Low's and Home Depot wanted $3500 for about 850 sq. feet. That was way too much. We went to Evans and Worked with Brad, a super nice guy who explained everything and didn't try to oversell us. (g)"

| Jeff B
Top Name Brand Mills
We Only Work with the Very Best!
FREQUENTLY ASKED QUESTIONS
A. Yes. You can bring your own or buy from us.
A. Yes, they do binding and will customize the rug to your size.
"Quality Carpet at Junkyard Prices"
30,000 Sq. Ft. of Carpet Bargains!
Oldest Columbus Rug Maker!
 Come, Make Your Selection Today!